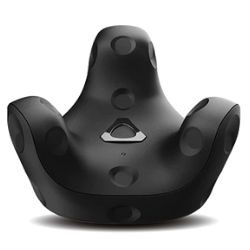 99HASS002-RET - VIVE TRACKER 3.0
Part number
99HASS002-RET
Copied
Information

Track movement and bring objects from the real world into the virtual universe.

Create a seamless connection between real objects and the virtual experience. Capture full-body movement with pinpoint accuracy. Integrate external devices with ease. Take your VR to a new level with the VIVE Tracker (3.0). Now smaller, lighter, and longer-lasting than ever before. Only from VIVE - the pioneer of VR.
Specifications & descriptions are provided by OneWorldSync and are accurate at the time of publication, but are subject to change without notice. For accurate stock holding please contact your account manager on 01509 274500. Prices shown for out of stock items are for reference only, if you wish to make a purchase please contact us for upto date pricing and eta's. Primo IT cannot be held accountable for any inaccuracies with this information, image accuracy is not guaranteed. Please do not rely on the image for your purchase. E&OE.